Anti-Aging Products
Advanced Anti-Aging Skin care
Skin aging is caused by two main processes; intrinsic, or chronological (natural), and extrinsic, or environmental (atmospheric), they both contribute to the visible signs you may see on your skin, such as fine lines, wrinkles, loss of firmness, and discoloration. SkinCeuticals product philosophy of prevent, protect, and correct is designed to shield skin from extrinsic factors causing skin aging, while improving the overall appearance of skin as it ages naturally.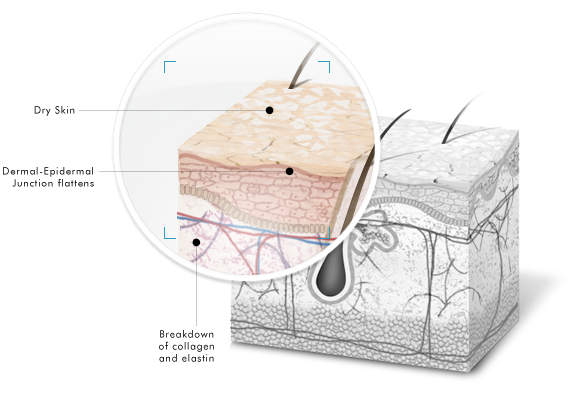 A patented anti-aging cream to refill cellular lipids and nourish dry skin. U.S. Patent No. 10,137,073.

Cooling fluid body treatment to help tighten and firm the appearance of skin.

An oil-free face serum that reduces the formation of adult acne, and improves visible signs of aging.

High-concentration anti-wrinkle cream formulated to improve the visible signs of aging caused by advanced glycation end-products (A.G.E.).

A weightless 100% physical sunscreen that provides broad spectrum protection with a transparent finish.

A patented daytime vitamin C serum that delivers advanced environmental protection and improves the appearance of fine lines and wrinkles, loss of firmness, and brightens skin's complexion. Now clinically proven to reduce combined oxidative damage from free radicals generated by UV, Ozone, and Diesel Exhaust by up to 41%. U.S. Patent No. 7,179,841.

An anti-wrinkle eye cream to fight the appearance of crow's feet, dark circles, and puffiness.

A multi-functional corrective serum to help amplify skin's hyaluronic acid levels

A high-concentration pure retinol cream for experienced retinol users to improve the appearance of visible signs of aging and pores while minimizing breakouts.

An eye serum-in-a-gel that provides advanced environmental protection while reducing the look of puffiness, visible signs of fatigue, and under eye circles.

A tinted sunscreen fluid with 100% mineral filters provides broad spectrum UVA/UVB protection, while promoting natural radiance and a more even skin tone.

A concentrated night face serum with pure antioxidant-rich resveratrol to reveal visible radiance and firmness.